Our Club was established in 1995 following the amalgamation of two stalwart East Auckland clubs, Howick AFC and Pakuranga Town AFC. The club has a current playing membership of 1600 from junior (under 5) through to the senior ranks, male and female. Our eldest playing member is in his 70's. Parents or guardians of junior and youth players are classed as associate members and their inclusion swells the clubs full membership to over 6000.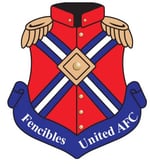 The name Fencibles recognizes the link between the club and the locality in which we are based. The Fencibles were among the first European settlers in the area, the name deriving from the Royal New Zealand Fencibles Corps. The Fencibles were the military defenders of the first settlers in the Auckland Region.
Fencible comes from the word "defencible" meaning "capable of defence". European settlement began in 1847 when three companies of the Royal New Zealand Fencibles were assigned to a defence post. They were retired soldiers enlisted to serve for seven years in
exchange for a cottage and an acre of land. Howick was the largest of the Fencible settlements, with 804 people in three companies in 1848. To emigrate to NZ under the Fencible scheme, retired soldiers were required to be under 48 years of age and of 'good character and industrious habits' They received a small pension and were required to find gainful employment in addition to their 'fencible' occupation.
The club playing strip of red, blue with white trim and the Fencibles Coat of Arms reflects their regular uniforms on blue trousers and a red tunic with white trim.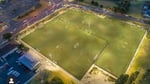 East Auckland is our home and we are proud of it.
Fencibles United is located at the Riverhills Park club grounds on Gossamer Drive, Pakuranga. This facility has three full size playing pitches and a dedicated floodlit training area. The Riverhills clubrooms have a bar service, big screen TV entertainment and a kitchen facility. It also features a deck area, perfect for watching games on the adjacent number one pitch. Of course Riverhills has the essential changing rooms, showers, toilet facilities, referees room and the like.
Our main training facility is William Green Domain, located a short distance from Riverhills on the Pakuranga Highway. This is an artificial turf pitch, comprising one full size, and 5 youth pitches. It is available for designated practice and scheduled NRF matches. The William Green Domain clubrooms has a canteen facility and will shortly have a full bar service with a big screen TV.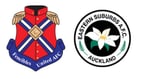 Fencibles Resource Partnership with Eastern Suburb
This partnership between Fencibles and Eastern Suburbs has been created to meet the ever-increasing challenges that football clubs are facing in delivering quality programmes and experiences for all of their members and stakeholders.
The innovative partnership is aimed at utilising shared resources to enhance all aspects of the club from social football through to recognised player and coach pathways. Whilst the partnership will bring the two clubs closer together, a large focus will be placed on preserving and respecting each other's unique identities. NZ Football have introduced the FIFA Club Licensing system in recent years with the overall aim of raising the level of club football.
One of the key goals in that process is to increase the level of professionalism in club football through strengthening their technical and sporting development. A significant component of this criteria is the recruitment and development of a suitably qualified Director of Football supported by qualified coaches in each age group.
By successfully meeting these standards clubs are awarded licencing status which provides quality assurance and other benefits to their members in terms of consistent access to certain levels of competition.
Successfully meeting and sustaining a Club License requires a significant amount of human and financial resourcing in the short and long term. The sustainability of these resources and programmes is a huge challenge for all clubs and requires fresh thinking and a different way of approaching the business demands of club football.
The financial impact of the COVID virus has added greater relevancy to developing new practices and strategies to not only ensure the long-term viability of sporting organisations, but also to allow clubs to keep evolving and delivering improved programmes and experiences.